Whether you have one or multiple readers in your family, finding a one-size-fits-all literacy program that serves everyone's needs while protecting their hearts and minds can seem impossible. How do you support struggling readers while keeping them interested? What about finding appropriate content for accelerated readers? Can students with reading challenges still participate with the family? And…that last little whisper in our ear…just how do they measure up to other students their age?
Tackling some of the toughest challenges for today's homeschoolers can benefit from modern solutions. Multimodal learning experiences, interconnected content, gamification, and relevant content in the safety of a protected platform…can we truly have it all? LightSail for Homeschoolers offers an all-in-one solution to support all of the readers in your family…including you!
Support for Struggling Readers
One of the biggest complaints of struggling readers is that there is no choice in the books that they "get" to read. In creating manageable sentences, often the books lack action, excitement, and zest. With LightSail for Homeschoolers, kids read in their EXACT reading zone thanks to the use of Lexile by MetaMetrics. It not only initially assesses your child's reading level, but then continues to do so as they read Power Texts and updates every 15 days. The best part? Kids get to choose whatever book they want in their very own personalized library.
Appropriate Content
Aligning content with your family's values can seem insurmountable, but LightSail makes it easy. With their extensive ChildSafe Content Controls and detailed Parent Dashboard, there's nothing your children do on this platform that you don't know about! It's that kind of safety that we often covet for our children amidst the wide world on the web.
One of the biggest challenges some parents face is with advanced readers who need more challenging texts, but not the mature content that often comes with it. LightSail helps you to navigate these waters using your child's Lexile as a guide and the ChildSafe Content Controls to guide their choices behind the scenes…even down to approving a book if you want!
Unit Studies
Finding ways to gather and learn as a family can be frustrating for the curriculum-seeker, especially with multiple reading levels and interests. Unit Studies on LightSail enable homeschooling moms to compile books of all levels, booklists, World Book encyclopedia articles (with the Premium version), videos, and more all related to a topic, including guiding questions for the unit and per item if you choose.
It's easy to share it with your family through the platform, and then they can pick and choose how they want to explore or you can guide them with a resource or two each lesson. Plus, it saves having to haul your rolling suitcase to the library for one unit study!
Accommodations
Struggling readers or those with reading challenges need not look any further than LightSail for Homeschoolers' Personalized Reader. This incredible tool transforms books, removing all the distractors and applying templates specifically designed by Special Education experts to support your child's individualized learning. You can even create your own specific template per device, so that your child can read any time, anywhere with Personalized Reader.
It's a total gamechanger for students with dyslexia, as LightSail has dyslexic-specific fonts plus read-aloud and follow-along features. And their vast collection of Audiobooks lets you take a breather and just listen to literature.
LightSail for Homeschoolers is definitely the 21st-century literacy solution for homeschoolers looking for an all-in-one way to manage and thrive in both reading and writing. And, by the way, you can also write and publish your own multimedia books into a family library! Be sure to check out the blog as well for reading suggestions, lesson ideas, and other resources for today's homeschoolers.
LightSail for Homeschoolers provides the safety you desire with the content you need. Aligning our content with your family's values, each family and each child can have an individualized literacy experience within the LightSail platform.
Looking for the right literacy program that provides safety for our children's hearts while still supporting their needs as growing readers, check out LightSail for Homeschoolers.
---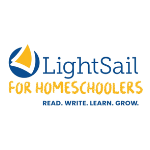 This article was provided by LightSail for Homeschoolers' team of experienced homeschool moms/writers. LightSail is an adaptive online language arts program for grades pre-K through 12. A foundation in the science of reading and writing combined with the experience of a team of home educators creates a family-friendly learning experience advancing skills in reading, writing, vocabulary, and fluency. LightSail provides tens of thousands of ChildSafe books and multimedia resources from leading publishers such as World Book and Lerner Publishing, including thousands of audiobooks in multiple formats: standard, text highlighting by word, and text highlighting by sentence.

Save 62% on your LightSail for Homeschoolers subscription until 11/15/2022!