For many homeschooling parents, the opportunity to foster rich and challenging academic experiences for their children is balanced against a concern about fewer opportunities for socialization. For Chanda Crist, a mom of two and a self-described "tech stack enthusiast" (Crist works in tech sales), finding innovative ways to develop her kids' emotional intelligence is a priority—as is tailoring learning to their interests and skills. Originally, her children (now seven and eight) attended a local preschool, but Crist began homeschooling them before elementary school.
Crist has a BrainPOP Family subscription, and her kids use BrainPOP, designed for grades 3–8+, and BrainPOP Jr., created for grades K–3. (BrainPOP also offers a Homeschool subscription, which includes creativity projects as well as assignment and assessment capabilities.) She praises these resources for enabling her kids to work in a self-directed way, without the need for constant monitoring. "I turn them loose while I work in one room, and every once in a while I get a shout, 'Mom, help!' but everything is self-taught, and at their own pace," she says. BrainPOP offers "a little bit of pushing, so they don't completely disconnect—but you can literally do your own work." Crist can then review a timeline of her kids' learning progress at her convenience.
She says BrainPOP has also been immensely helpful in fostering emotional intelligence, which, to Crist, refers to not only learning emotional skills, but also gaining awareness and perspective on issues that are important to society as a whole. For instance, Crist admits that, when she was growing up, kids were taught what Juneteenth was, but not to "understand the cultural ramifications" of the day. "So, when I saw that there was a Juneteenth movie and educational resources on BrainPOP, I wanted my kids to learn all about it," she said. "It's history, and it's essential. And I love that sensitive topics like that can be presented in a manner that is easily digested by little kids."
Above all, Crist reflects that BrainPOP allows her kids to pursue learning that is interesting and engaging for them—with the flexibility to explore topics within and beyond grade-specific standards—so their curiosity isn't limited. Her seven-year-old son is now teaching himself about square and cube roots, while her eight-year-old daughter is fascinated by BrainPOP's anatomy movies. Both kids appreciate that BrainPOP topics offer diverse entry points to subjects. Crist's daughter, for instance, prefers the artistic applications of math, while her son prefers math in its pure form. Crist can pace their education in a manner that works best for their learning styles and interests. "BrainPOP opens a huge door at an early age," she reflects. "I got stuck in my generation, where I wanted to learn things early, but no one would open the doors. But BrainPOP allows kids to open the doors they want."
---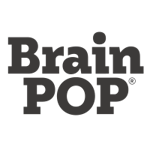 BrainPOP is a K-8+ learning platform that transforms kids' screen time into active learning with award-winning movies, games, quizzes, and creative projects.
Inspire creative, fun learning moments that stick! With BrainPOP, you'll nurture kids' lifelong curiosity with 1,200+ topics across all subject areas, build foundational background knowledge through animated, educational movies, and empower them to show what they know through creative coding projects and making their own BrainPOP movies.
Special thanks to BrainPOP for sharing with us this week. An award-winning pioneer in edtech for over 20 years, BrainPOP promotes 7 critical skills verified by the ISTE Seal of Alignment, and is used by over 6 million teachers. If you are interested in BrainPOP, new subscribers get exclusive savings at the Homeschool Buyers Club for an annual BrainPOP Homeschool plan that includes 1 teacher account and up to 4 students. Click here for details.