Our friends at Alpha Omega Publications share with us some great free tools for home and homeschool that you can print from home.
Weekly Calendar Planner
While our cell phones can offer us incredible convenience, including helpful calendar reminders and a schedule that's almost always with us, there are still some of us who love to have a physical calendar in front of us to help us plan. If that's you, we hope you can use this printable weekly planner week after week to keep your homeschool family on time and on schedule.

DOWNLOAD PRINTABLE WEEKLY PLANNER

Weekly Meal Planner
Nutrition can be a complicated topic because, depending on whom you ask, you can get contradictory information about the most nutritious way to eat. For example, one diet says to eat low carb and high protein while the next says to eat high plant-based carb and low protein. While this overload of information can feel overwhelming, there is one thing all the experts agree on: the surest way to achieve positive results and make healthier choices is to plan ahead for your meals.
DOWNLOAD MEAL PLAN AND SHOPPING LIST PRINTABLE

Inspirational Poster
As a homeschool family spending lots of time together and sharing the same spaces under one roof, the ups and downs of a homeschool year are unavoidable. For those times your young learners need a positive and encouraging note that homeschooling is working in its own beautiful way, print this free inspirational poster to remind your children to never forget that they are loved by you and their Creator more than they can possibly imagine.

DOWNLOAD POSTER (8 1/2 X 11)
DOWNLOAD POSTER (24 X 36)

Inspirational Coloring Sheet
Open up a colorful box (or go to the jumbled bucket) today, peel back some paper wrappers, and print out AOP's free inspirational coloring sheet for kids (and parents) to enjoy!

DOWNLOAD COLORING SHEET
---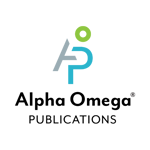 Alpha Omega Publications (AOP) is a leading provider of PreK-12 Christian curriculum, educational resources, and services to Christian schools and homeschool families worldwide.

Until 7/3/2021, not only can you save 10% plus get free U.S. shipping (orders over $35) but you will also receive double SmartPoints (20/$1 spent) when you order your AOP curriculum through the Co-op HERE.