Having the freedom to choose the curriculum that fits your family's goals and lifestyles exemplifies how homeschooling goes beyond the one-size-fits-all approach. While it's one of the biggest decisions you can make regarding at-home learning, choosing a homeschool curriculum doesn't have to be complicated if you ask these few important questions.
Do you want your kids to have a Christ-centered education?
For many years, the number one reason homeschoolers chose to homeschool was to provide Christian education at an affordable cost compared to private schools.
What is your child's learning style?
Figuring out your child's learning style can help you decide on the best curriculum and supplemental activities to support your child. From auditory to hands-on learners, students simply learn differently. If you're unsure about where your child lands, take a free learning styles quiz.
Do you want the support of accreditation?
Curriculum alone cannot be accredited. Instead, only institutions receive official verification by an outside agency that a school is meeting expectations and is actively improving school standards.
Are you looking for print or online curriculum?
For busy families with fast-paced lives, online curriculum is a game-changer that can offer automatically grading and lesson planning. On the other hand, there's something familiar and enjoyable about learning with pencil and paper. The choice is yours, but don't be afraid to mix it up and do a little of both.
Do you want a teacher-led curriculum?
Depending on your child's learning style (see above) and your availability as a parent, you may want to consider a student-led curriculum where students can work at their own pace. Meanwhile, a teacher-led curriculum puts the teacher in charge of presenting new information.
---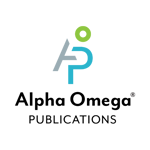 Special thanks to our friends at Alpha Omega Publications (AOP) for providing us with this week's blog post. AOP is a leading provider of PreK-12 Christian curriculum, educational resources, and services to Christian schools and homeschool families worldwide.
Until 9/30/2020, you can save 20% plus get free U.S. shipping (orders over $25) and SmartPoints when you order your Alpha Omega Publications curriculum through the Co-op HERE.