Research shows that on average, learners lose about 20% of their academic-year gained learning over summer breaks. One creative and meaningful way to combat the summer slide is to encourage learners to read and write about things that are relevant and special to them.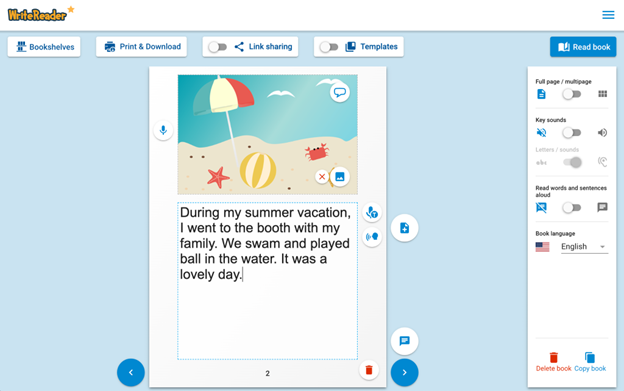 Every summer is filled with stories – and WriteReader makes it easy for learners to write about them. Motivate your learners to make this a summer of creativity and learning.
Getting Started
WriteReader provides an engaging platform, where learners can easily use the open-ended and multimodal tools to create stories that they're proud of. From being used as a placement and diagnostic tool, to providing computational thinking via coding journals, the options for using images, text, educator feedback field, and other features in multiple ways makes this platform very customizable.
Getting started is easy with WriteReader. Take a look at our quick start guide.
Glide Through Summer with Writing Prompts and Ideas
WriteReader provides an extensive collection of rights-free image banks. Learners can browse specific categories, or use the 'search' feature for more precise results. And if some of them have got writer's block, there are also writing prompts to get them started!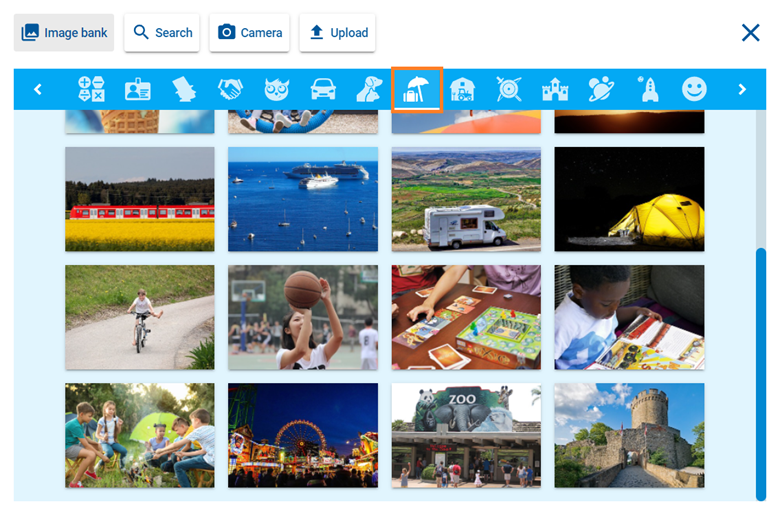 Children can write about:
● Summertime travel
● A scavenger hunt; make a list of items and tick off each as they come across them
● Special activities, like camping, or putting on a talent show
● A trip to the zoo, aquarium, a baseball game, a farm or a specialized factory (a chocolate factory, or a paper printing press)
● Memories from the summer
● The ocean; pretend they are swimming in it. What do they see? Describe the fish, the plants, the sand, the seashells, etc.
● How to books, such as 'How to make S'mores', or 'How to make sock puppets'
● Creative stories with a summertime theme


Encourage learners to use the WriteReader image bank to add images, or use the camera or upload tool to add their own photos or drawings into their books!

Book Templates
Learners can create their own books from scratch, or use the templates - like the ones below - from the template library to kickstart or support the writing process. Templates are accessible to the learners only if they are shared by the parents/guardians.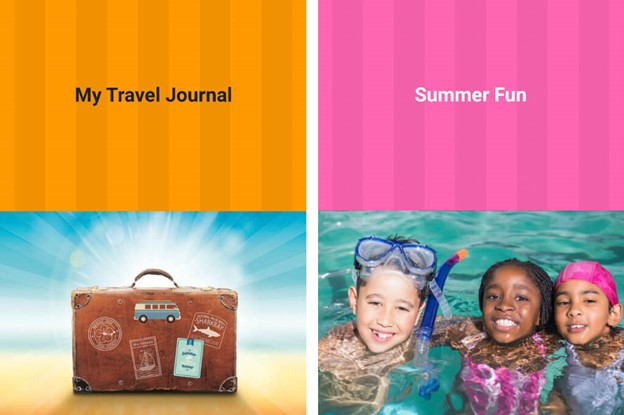 Sharing and Accessing Book Links
Learners can work on their creations anytime, anywhere! Just share the username and classcode with the learners. Once the books are created, turn on link sharing to provide access to other people.
---
We want to thank WriteReader for sharing with us this week.

WriteReader is a literacy platform where kids can create their own digital books while learning to read and write. Works well with ELA and ELL students.
Increase curiosity, motivation and interest for the written language in a fun and engaging way using WriteReader. Children learn to read by writing their own multimedia books, enabling them to be storytellers and authors at a young age.
Get exclusive savings at the Homeschool Buyers Club for a WriteReader Family Annual Subscription that includes 1 teachers account and up to 5 students. Click here for details.