As back-to-school season approaches, you may feel like there aren't nearly enough hours in the day to get all your planning done. From determining a curriculum and gathering materials to establishing daily routines, it can be challenging to find a moment to catch your breath, let alone plan lessons.

While we can't magically add any hours to the day, BrainPOP can give you back some time by providing simple, step-by-step lesson plans written by former teachers. Designed to deeply engage children in subjects ranging from Decimals to Volcanoes, each lesson plan offers creative ways to express their understanding, such as making their own movies, concept mapping, and even coding!

Each lesson follows the same format, beginning with a prompt for kids to share what they already know about a concept. Activating prior knowledge by talking about what they know is a great strategy for hooking children into a topic and getting them excited to learn more.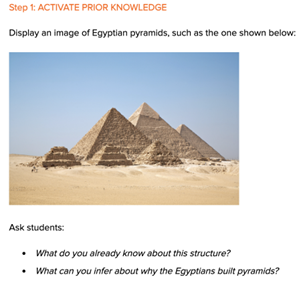 Activating prior knowledge with a picture in the Egyptian Pharaohs lesson plan
Next, kids build knowledge about the topic by watching the BrainPOP
movie
and reading
articles on related topics
. Some movies have built-in Pause Points—prompts for kids to stop and think about what they're learning and respond.
After the movie, kids engage in
playful learning activities
and/or a
quiz
. This gives them a chance to show what they know while enabling you to assess their understanding.
Each lesson closes with a choice of creative learning activities, including
movie making
,
concept mapping
,
coding
, and sometimes analyzing a
primary source
, that prompt kids to extend and deepen their understanding.
Ready to dive in? We have a lesson plan for every BrainPOP topic (that's literally hundreds of lesson plans!). We recommend these lesson plans to kick off the school year:
Reading Skills
Five-Paragraph Essay
Text Structures
Scientific Process
Setting Goals
Multiplication
Word Problems
---
We want to thank BrainPOP for sharing with us this week.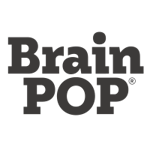 BrainPOP is a K-8+ learning platform that transforms kids' screen time into active learning with award-winning movies, games, quizzes, and creative projects.
Inspire creative, fun learning moments that stick! With BrainPOP, you'll nurture kids' lifelong curiosity with 1,200+ topics across all subject areas, build foundational background knowledge through animated, educational movies, and empower them to show what they know through creative coding projects and making their own BrainPOP movies.
Get exclusive savings at the Homeschool Buyers Club for an annual BrainPOP Homeschool plan that includes 1 teacher account and up to 4 students. Click here for details.

Special savings ends 8/31!