Children's imaginations source limitlessly creative possibilities, dreams and ideas. Educators and parents who want to provide their children with a meaningful outlet to channel their creativity can find some interesting writing categories, questions, and prompts below.




'All About Me' books
Children start their learning with themselves. Provide them scaffolds and templates to help them write their life stories.

Write a book about yourself and your characteristics/interests
1. Add facts like age, height, hair and eye color.
2. Write about your main interests/hobbies and why you like them.
3. Tell about your favorite food, clothes, colors, numbers, spirit animal, etc.

Write a book about what makes you unique and/or identifies you
1. Write an action book about some adventure you've been on.
2. Share moments that made you feel included and how they helped you.
3. Talk about your goals and dreams in life, and what you hope to achieve.

Alphabet books
WriteReader's image bank and multimodal tools support young authors in creating and sharing alphabet books.

Use the picture book styles to create your own alphabet books
1. Use the captions/callouts to add labels to the pictures.
2. You can also use the microphone to record multiple different words for each alphabet.




Use the standard book style for advanced writers
1. Add different words for each alphabet/sound, or use complete sentences.
2. You can upload a custom image of multiple words for a single alphabet.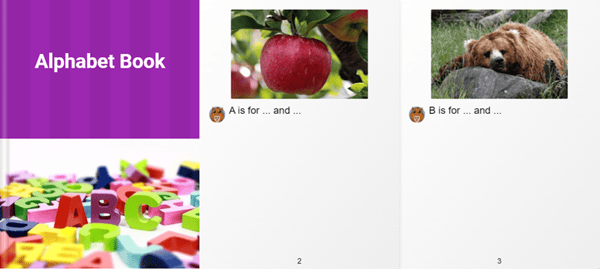 A complete guide on writing and reading utility settings can help you better utilize speech-to-text and audio additions to books.


Comics
Creating comics enables learners to develop their vocabulary authentically. Of course, the writing doesn't need to take the form of comics. Adding callouts to photographs can be just as powerful and used in a variety of ways across the curriculum.

Enhance the text of non-fiction or fiction writing
1. Create animal books and add the sounds they make using callouts.
2. Create dialogue between the characters in the story. The writing fields act as the plot or what the narrator might say.
3. Make a T-chart and compare what the characters in a book said and what they thought. Copy and paste these comments into the speech and thought bubbles in your book.



Cookbooks
Nothing brings people together like their shared love for food. Encouraging children to learn about diverse cultures and sharing their own through different recipes and cuisines is a great start.

Cooking, baking, and writing
1. Make your favorite dish and take photos along the way. Afterward, write your own cookbook with ingredients and steps, and share it with friends and family.
2. Create a meal plan and record all the meals that your family will eat in a week. Take pictures and tag your favorites.
3. Keep a journal/record of all your healthy eating habits, or any changes that you want to make to your diet.
Fan/Idol books
Help children express their admiration for their favorite personalities and connect with them in a healthy way.

Write books about your idols and favorite teams/players
1. Search for images on the internet of your idols or take photos of your fan merchandise. Write a book with relevant info about your favorite singer, band, athlete, sports team, etc.
2. Create a fan book expressing why your idol(s) inspire you, and get it autographed if you get a chance!
3. You can also create and send cards to them as fan-mail.
Game books
Learning doesn't have to be limited to just words. Use WriteReader's different page types to create your own unique game books.

Trivias, puzzles and writing
1. Play the image detective game, and create your own using uploaded images that have personal relevance to you. Can your fellow mates figure out the truth?
2. Create Zoom It! Books and challenge your friends to find as many image-word associations as they can.
3. Create trivia books - on any topic - for your friends to complete. Provide multiple choice questions (with images as options instead of text), or 'fill in the blanks'.
4. Create the classic 'find the difference' or 'hidden object' game books using the picture book option. You can even upload your own images from real life for some extra fun!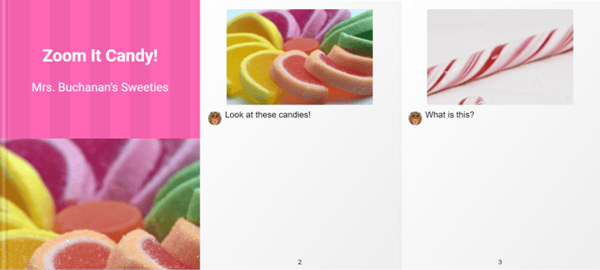 Math Stories
Reading aloud math stories has been a well known and effective way to introduce abstract math problems to young children and to make math more relevant to their everyday lives.

Creative writing through math stories
1. Create math stories through word problems that require using the different concepts. Can be related to the current skill being taught, or a skill learners need to review & practice (addition, subtraction, multiplication, division, geometry, measurement, etc.).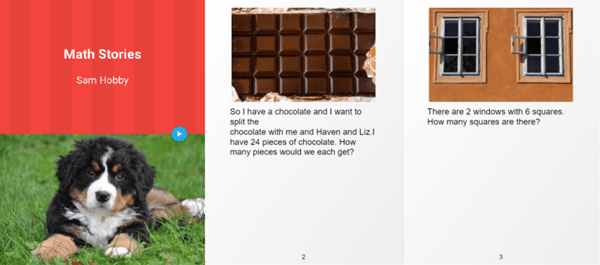 Books can easily be shared remotely or over the summer break with your friends, classmates or educators. You can create your very own virtual book/bookshelf exhibits through the 'reading rooms' feature for remote sharing.

Happy writing and reading!
---
We want to thank WriteReader for sharing with us this week.

WriteReader is a literacy platform where kids can create their own digital books while learning to read and write. Works well with ELA and ELL students.
Increase curiosity, motivation and interest for the written language in a fun and engaging way using WriteReader. Children learn to read by writing their own multimedia books, enabling them to be storytellers and authors at a young age.
Get exclusive savings at the Homeschool Buyers Club for a WriteReader Family Annual Subscription that includes 1 teachers account and up to 5 students. Click here for details.